Here at Pet Travel we  arrange for cages to be couriered to the shipper of the pet, in time to meet their flight.  The costs of the cages include delivery to an urban address.  Please allow up to 5 business days for your cage to be delivered.  In most cases we recommend not to book your pets travel until the cage has arrived with the shipper.  Please email Pet travel on bookings@pettravel.nz or phone 063447866 to order a cage from us.
All of our cages come with puppy pads, to line the bottom of the crate ready for travelling.  They also come with a water bowl and funnel.
The PP range of cages also make fantastic beds for pets.
**Please note, the delivery is to an urban address.  Rural delivery is an extra $9.00**
**We only sell cages and do not offer a hire service**
PP20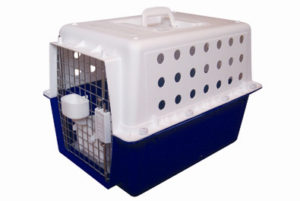 Carrier weight 3kg
For pets up to 5kg
53L x 37L x 37H cm
$110.00 Including delivery**
PP30
Carrier weight 5kg
For pets up to 8kg
62L x 41W x 45H cm
$145.00 Including delivery**
PP40
Carrier weight 5kg
For pets up to 12kg
73L x 45Wx 53H cm
$175.00 including delivery**
PP50
Carrier weight 7kg
For pets up to 16kg
82L x 56w x 60H
$260.00 including delivery**
Cage Booking Form